Why is a hat made in Ecuador known as a Panama?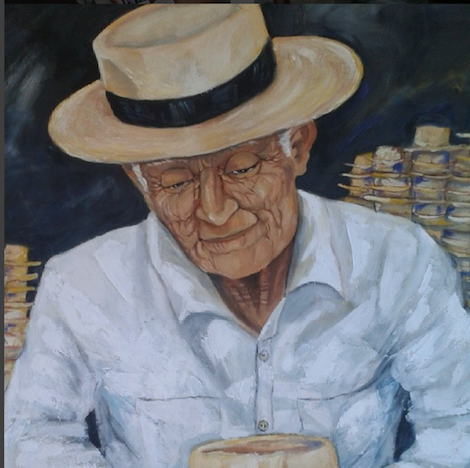 The Panama Hat is made with straws of toquilla palm, native of Ecuador, and woven by skilled weavers from Ecuador. So why is a quintessential Ecuador hat known as a Panama hat?
It has to do with events in Americas at the turn of the 20th century. Panama was where most travellers first encountered the hat, which were transported from Ecuador to Panama by traders. The Californian Gold Rush in the 1840s, and the opening of the Panama Canal in 1914, which opened a water gateway from the Atlantic to the Pacific Coast, sent a drove of fortune hunters, traders and travellers to Panama en-route to California. The toquilla straw hat, which provides a good shade from the sun, was ideal for the Californian heat. The popularity of the hat soars with the bustling trade in Panama.
Famous hat wearers in history included Napoleon III (1808-1873,) who sparked interest for fine Panama hats in France and Europe. Another famous wearer is Theodore Roosevelt (1858-1919,) the 26th President of the United States. Buyers began to associate the hats with Panama where they bought the hat. It is a misnomer that the famous hat, made in Ecuador, is known as a Panama Hat. A genuine Panama Hat is always made in Ecuador.
Ecuador is a place where the best straw hats are made. The exceptionally good quality of toquilla straws, which are ideal for hat weaving, made the Panama hat soft and lightweight. But good material is useless without fine craftsmen. The skills of master weavers in Montecristi, a hill-side town on the western coast are legendary. Fine Panama hats are like sculptured linen. The finest of the Panama hats is a Montecristi with a weave count of 3,906 weaves over a square inch, which translated to over a million weaves in a hat!
Montecristi Panama Hat seller, Brent Black remembered how he first got into the business in 1988. One of his vacations was down south to Ecuador. He had read the book the "Panama Hat Trail" by Tom Miller, and thought it would be interesting to go see the hats he had read about, Black recounted in an interview with New York Fashion Week magazine in June 2015. The book mentioned Rosendo Delgado as the largest hat dealer in Montecristi, so he showed up at his house to asked to see some hats.
"When I touched my first Montecristi hat, it touched me back. I had not expected to have such a visceral response to a hat," he told NYFW magazine. It was an experience he remembered vividly.
Señor Delgado and others told him that every year there was fewer and fewer hats, Black recounted. He quit his job in advertising, and began a quest to rescue Montecristi traditional craft of fine hat-weaving.
Just as soccer is synonymous with Brazil, and Miss Universe with Venezuela, Panama Hat is with Ecuador. Hat weaving is an intricate part of daily life in Ecuador. British hat seller Carry Sommers of Pachacuti wrote in her blog that women in Cuenca, a city in the Andes Mountains, seems to be weaving all the time. Women were weaving on the bus, while walking to market or on their way to the fields. Even at the village's general assembly which she attended, where large signs read, "Leave Your Hats Outside," weavers carried on weaving while voting.
In 2012, UNESCO listed hat-weaving in Ecuador as an Intangible Cultural Heritage. It is a tribute to the fine art of Ecuador's hats, and a recognition of hat weaving as a way of life in Ecuador that is worth preserving.
Ecua-Andino is a luxury Panama hat brand founded by Edgar Sanchez and Alejandro Lecaro in 1985. Ecua-Andino is known for Panama hats with bright bold colours and hand-painted artwork (see Ecua-Andino Hats.) Today, the company exports about 200,000 hats a year from the port city of Guayaquil where it is based.
Sources:
Why Is A Hat From Ecuador Called A "Panama" Hat? (Brent Black Panama Hats) http://www.brentblack.com/pages/history.html
Avion, Pablo. "How to buy a $3 million Panama Hat?" New York Fashion Week Live. 6 June 2015.
Somers, Carry. (2012, June 6) UNESCO Recognition for the Art of Panama Hat Weaving. Pachacuti Journal. http://www.panamas.co.uk/journal/UNESCO-Recognition-for-the-Art-of-Panama-Hat-Weaving
---
You may like: