Panama Hat: Which is the real McCoy?
There are many Panama-style hats in the market that look like a Panama but are not. They are actually Paper Braided hats. Can you tell which one of the hats below is a genuine Panama Hat?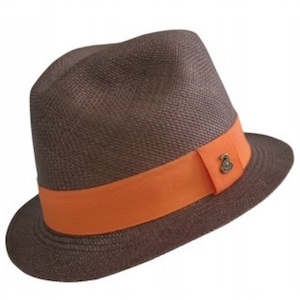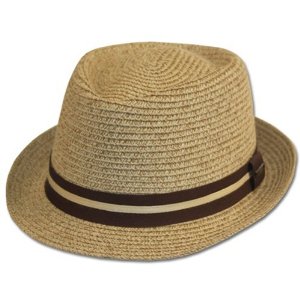 The real McCoy: the hat on the left is a Panama Hat. The one on the right is a Paper Braided Hat.
1. Check the Origin
A Panama Hat is always made in Ecuador, so check the label on the hat. It should read "Made in Ecuador." If it reads "Made in China," it is likely a Paper Braided Hat.
2. Straw vs Paper
A Panama Hat is handwoven from straws of toquilla palm (Carludovica Palmate.) Toquilla palm is a native plant of Ecuador, and the straws are ideal for weaving. They give the Panama Hat its trademark softness and lightness. By contrast, a Paper Braided Hat is made using paper and polyester threads. The surface of the hat is rough and grainy, and the hat is heavier than a Panama Hat.
3. Hand-woven vs Machine Sewn
Panama Hats are handmade, and each hat could take a week to six months to weave, depending on the quality. Weavers depend on the natural light to weave. The first hours of the day, and the last hours of the afternoons are the best time to weave.  After the weaver is done, the hat would have to pass through the hands of six more craftspeople — the backweaver, tightener, cutter, bleacher, ironer, and finally, the blocker to shape and style the hat — before it is finished.
In comparison, a skilled seamstress could sew a hundred Paper-Braided Hats a day. The hats are made using paper and polyester braids. Rolls of rice paper are cut by machines into long thin ribbons, then crushed to make thin threads. The threads are braided and re-enforced with polyester. The seamstress, who would sew the braids, one layer after another, to make into a hat. You can tell the hat is machine-sewn from the horizontal thread lines that run the entire length of the hat. Many are good, durable hats, but they are not Panama Hats.
4. Price Difference
Panama-style hats, made in Chinese factories, are sold by fashion chain stores at fractions of the prices of genuine Panama Hats. If you a purist, and like the touch of natural straws and traditional fine craft, then buy your first Panama Hat. It's worth every penny.
Sources:
Elaboration Process (Ecua-Andino Hats) https://www.ecua-andino.com/en/elaboration-process
A Visit to a Hat Making Factory. That Way Hat's Blog. http://blog.thatwayhat.com/?p=5
---
You may like…