Kids UPF 50+ hats: Sunday Afternoons' hat sketches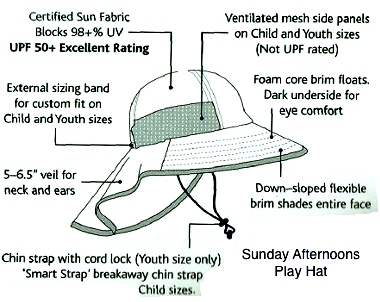 Looking at Sunday Afternoons' hat sketches for children, what stands out is the thought that has gone into the design of each hat. The attention to details —from using UPF 50+ certified fabric to mesh paneling for ventilation — are aimed at keeping the young hat wearer safe and comfortable in the sun.
A Blue Print for Sun Protection & Comfort
The fabric is UPF 50+ certified, which means it has been tested to provide 98% protection from the sun's harmful UV rays.
The hats are lightweight and feel barely there. Each children hat weighs from 37-51 grammes, which is as heavy as a small egg (51 g.)
What if it rain unexpectedly? The fabric is water repellent, which would keep the child's head and face dry in light rain, while looking for shelter.
What if it is a windy day? The child's hat is designed with a velcro strap, and the youth's with a cord strap. The strap prevents the hat from blowing away.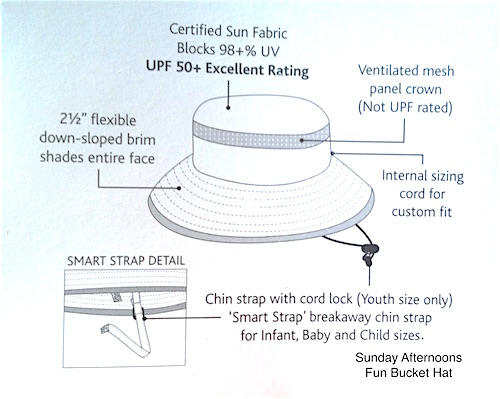 With proper care the hat would last the child for years:

The adjustable bands (on the outside of the Play Hats, or tucked away in the inside of the Bucket Hats) allow the hats to be sized up as the child grows up. A child-size hat would fit the head of an average child in kindergarten and up to lower primary. The youth's hat from upper primary to lower secondary school.

All well-made hats should have cool features. Setting itself apart from other children's caps,

Feature #1: the Sun Tripper Cap has a foldable brim. Fold the brim into half of its size, and stash the cap conveniently in the pocket or bag when the child doesn't need it.
Feature #2: a hidden pocket inside for small items like tissues, money or house keys.
With plenty of sun-protective features, and details for a comfortable wear in the sun, there's nothing not to like about Sunday Afternoons' kids hats.
---
You may like: